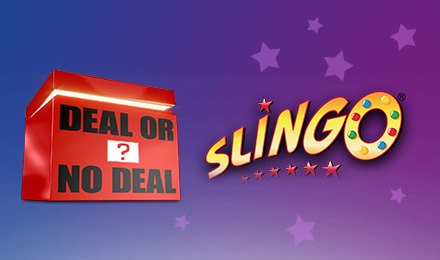 Slingo Deal or No Deal
Slingo Deal or No Deal is based on the popular American game show – Deal or No Deal. It boasts thrilling features and bonus symbols for an entertaining gaming experience. It is one of the most interesting titles from the innovative Slingo Originals.
play now
To top it all off, this game successfully replicates the basis of the original show, where you have to mark off boxes, and then claim the highest prize. The banker will place an offer, and you'll have to choose to take either the Deal or No Deal or spin. Keep your eyes wide open during the game, Slingo characters might crop up and award prizes.
How to play Slingo Deal or No Deal?
To jumpstart your gaming experience on Slingo bingo, choose your stake which ranges from £1 to £100.
Click on the "Start Game" icon.
Pick your lucky box and click on "SPIN".
The main goal is to match your numbers on the reel with all the boxes that are found on the grid and eliminate the prizes.
Each time you complete a line, it moves you up the prize boost ladder. Thus, multiplying the value of each remaining prize.
Anytime you get 4 Slingos you will unlock the Bankers Offer!
Decide to take the deal, no deal, or spin.
Features and Benefits
JOKERS: The joker is the wild symbol and it can be used to open any box on the column they appear.
SUPER JOKERS: The green joker is the super joker and considered the Wild. It can open any box on the grid.
DEVIL: This symbol blocks potential matches on the reels while playing this Slingo game.
Bonus Symbols
FREE SPIN: The free spin symbols will award an additional spin at the end of the gaming session.
BANKER'S OFFER: There are 12 Slingos that can be found. Each time you complete a line you move up the prize boost ladder, and it applies a multiplier to each remaining prize value during the game.
Deal: You take the banker's offer.
No Deal: You open your box and collect the value inside.
Spin: You continue the game.
Mobile Experience
Slingo Deal or No Deal is playable on PC or Mac, tablet and mobile devices. Play on the move anywhere, anytime for the chance of huge prizes by completing a Full House.
Tips & Strategies
Complete at least 10 Spins, any free spins collected, and open your box.
Always position your super jokers and jokers in a way where you will move closest to completing a Slingo.
Give preference to the central square since it includes the vertical, horizontal and diagonal lines.