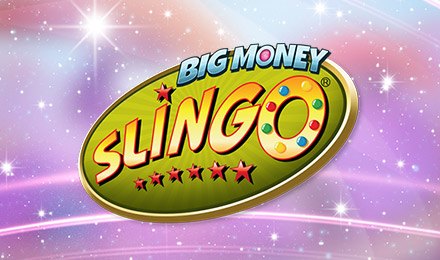 Big Money Slingo
Take a virtual trip to Big Money Slingo where you can win up to £150,000! This exciting Slingo game is an interesting mix of both online slot and bingo. It is an innovative game with 6 kingdom themes represented by 6 bet amounts from which there's the possibility of excellent prizes.
play now
Enjoy this unusual yet entertaining game and try to get the prizes rolling. The little jester and free spins bonus feature might boost your chances of huge wins.
How to play Big Money Slingo?
Choose one of the 6 various settings such as Jokers Hamlet, Golden Fields, Royal Forest, Smugglers Cove, Diamond Peak and Lucky Gulch with the respective set bets of £0.50, £1, £2, £5, £10 and £15.
After you've chosen the amount to play, press on "Start Game".
Up to 4 Jokers will come into view on the grid of Big Money Slingo prior to the 6 spins left.
Each time a revealed number comes into view in the card, a star will crop up in place of the matching number.
Anytime a FREE yellow ball appears you will win an extra spin.
To select the next ball, select the Spins Left button until you've used all of them.
You will win corresponding prizes on Slingo online if 5 matching numbers appear in a diagonal, vertical or horizontal line.
Features and Benefits
JOKERS: When the game starts there will be up to 6 Jokers and they will take up a number on the grid. These jokers' symbols act as the wilds and they can substitute any symbol on the reels to complete a Slingo win line. An interesting aspect of the game is, each time you select a new bet amount, a unique backdrop appears. When this happens, you'll notice that there is a change in the prize amount. This means that the greater the stakes the higher the potential returns on Big Money Slingo.
If you select the low limit stake of £0.50 by clicking on Jokers Hamlet, you will find yourself in the depth of a forest. On this game, the top prize is £5000.
If you want to wager more, you can take a virtual trip to Golden field. Wager £1 and seize the chance of winning up to £10,000.
For only £2 walk through Royal Forest set in the beautiful scenery of trees and lakes. Enjoy your Slingo adventure and try to win up to £20,000.
For an initial bet of £5, create the possibility of winning a huge prize of £50,000 with 6 pins and the opportunity for free spins.
Set off into the snowy mountains; Diamond Peak has a set bet of £10. Give yourself a chance of winning a whopping £100,000 on this entertaining Slingo casino game.
The high paying jackpot is at Lucky Gulch. Place your bet of £15 and take the chance of hitting on a £150,000 cash prize.
Bonus Symbols
Free Spins: The free spins bonus feature on this Slingo game is much the same as the free spins feature from online slots machines. During the game, you will have the possibility of winning some extra balls for additional chances of winning a Slingo. These extra spins are awarded randomly.
Mobile Experience
You're a mobile player? Enjoy this Slingo casino game on the move anywhere anytime you want. Take the fun outdoors by playing via your iOS or Android devices. The game runs seamlessly on your mobile or tablet devices for cool gameplay.
Tips & Strategies
Read this game review to understand the different aspect of the game.
Choose Big Money Slingo since it's great for any budget.
Have fun exploring the various kingdoms for potentially huge wins.