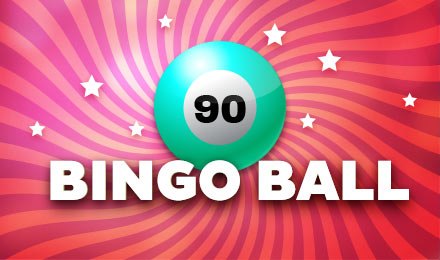 90 Ball Bingo
Moon Bingo is the best online bingo site to play 90 ball bingo! This popular form of bingo is one of the most popular games in the UK and the most common one played in live bingo halls.
play now
Players love 90 ball games as it is moves at a faster pace than the 75 ball bingo version of bingo! With three winning patterns, 90 ball bingo games give you the best chances to win!
Make your way over to our fabulous 90 ball rooms like Sweet Wins and Mighty Ninety! In Penny Express you can play to win for as low as 1p a card! There are always fun games happening around the clock so you can always join in the 90 ball bingo fun!
How to play 90 ball bingo games
If you are new to bingo, this is where you'll learn how to play 90 ball bingo games. Considered as one of the most popular and easy bingo games, 90-ball bingo will be right up your ally! The tickets are arranged in a 3 by 9 chart of numbers. On each row, there're 9 boxes with 5 numbers and 4 blank squares. This is how the lines are arranged on a bingo ticket.
1st Column - 01-09
2nd Column - 10-19
3rd Column - 20-29
4th Column - 30-39
5th Column - 40-49
6th Column - 50-59
7th Column - 60-69
8th Column - 70-79
9th Column - 80-90
As you learn how to play bingo with 90 balls, you must familiarize yourself with some basic rules of 90-ball bingo. During a bingo game, the caller will announce 90 unique numbers only once. If the numbers that are called out are featured on your bingo cards, they are marked off.
"But, how do I play the 90-ball bingo and win?"
The Different Winning Patterns
Guess what, the 90-ball bingo game offers players a load of chances to win. The same player can win 3 prizes if they are the first to meet all these winning conditions:
Any One bingo line: Cover-Up all numbers found on a single row
Any Two horizontal bingo lines: Cover up all numbers in any 2 horizontal rows
Full House: Cover up all 15 numbers on a bingo ticket
This is how to play 90-ball bingo to win! All you must do, is to try to be the first to complete all 3 winning patterns and bag some interesting prizes.
The Size of a Game's Payout!
When you get to know how to play 90-ball bingo, you'll find that the size of the jackpots or payout depends on a few factors. It is mainly determined by the price/cost of your bingo tickets as well as the number of players in the game. So, the higher your ticket price and the more players that join the bingo session the bigger the prize!
In some cases, 90-ball bingo games start with a minimum prize no matter the ticket price or the number of players that opt in.
Tips and Tricks for 90-Ball Bingo
Players learn how to play 90-ball bingo to enjoy the game more. Here are a few tips and tricks that could increase your chances of wins. These are simple strategies you could implement while playing bingo!
Make sure you are acquainted with the basic rules
Play during off-peak hours
Buy several inexpensive cards
Keep an eye on the ongoing promotions
Now you can be sure to know how to play bingo on Moonbingo, an online bingo site where the fun never ends!
Where to play 90 ball bingo
We always have fun 90 ball games happening at Moon Bingo! Play in one of our many bingo rooms for loads of fun and win mega jackpot wins!