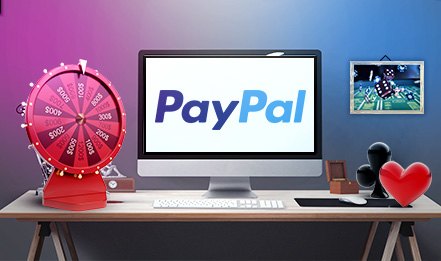 PayPal Bingo Sites
If you're looking to play bingo and wish to sign up and make deposits via PayPal, then Moon Bingo is the site you're looking for.
play now
We're one of the most trusted online bingo brands in the UK, and whether it's bingo, or even casino games that you wish to play, we offer PayPal as a deposit and withdrawal method to both new and existing sign ups.
PayPal is one of the most secure payment methods on the planet, and not only is it quick and simple, but there are plenty of benefits to playing bingo with PayPal too!
What is a PayPal Bingo Site?
People will often refer to Moon Bingo as a PayPal Bingo Site. That simply means that we accept PayPal as a method of deposit and withdrawal.
Players can link their PayPal account to Moon Bingo and make deposits at the click of a button, and there's no need to directly enter your bank details. All you have to do is login to your Paypal account with your username and password, and then you can start playing some of the best best bingo games today!
Of course, we do also accept all the other most popular deposit and withdrawal methods, and you can find a full breakdown of the type of methods we accept below.
Making A Deposit Using PayPal
Making a deposit with PayPal couldn't be easier, and if you're a regular user of PayPal, you'll find it just as simple as making any other payment.
To make a deposit with PayPal here at Moon Bingo, simply take the following steps:
Sign up or Sign in to your Moon Bingo account.
Head to the Make a Deposit area of the My Account section.
Enter how much you would like to deposit and select PayPal as the prefered payment method.
Sign in to PayPal, select the payment account in your PayPal account and confirm the transaction.
Why Deposit Using PayPal?
From helping you to manage your bankroll to speed and convenience, there are many reasons why you may want to make a deposit via PayPal and we have outlined the main reasons below:
Speed: It's the quickest way to make a deposit, with no need to type out or enter your bank details. Deposits are instant, and withdrawals are much speedier than almost any other method of withdrawal.
Security: PayPal essentially acts as a go-between between your bank and Moon Bingo, therefore there is no direct transaction between us and the bank itself. This can be particularly important if you are using public networks to play.
No Need For Bank Details: You don't need to keep your bank details with you every time you wish to make a deposit. You just simply need your login details in order to be able to authorise a transaction.
Manage Your Bankroll: Using PayPal can help you manage your bankroll as you can deposit funds into your PayPal account which can be used exclusively for bingo gaming, helping you control and limit your spend. Players can also store their winnings in your account and can then transfer funds to their bank if necessary.
Other eWallets & Deposit Methods At Moon Bingo
Of course, we don't just offer PayPal as a deposit and withdrawal method, there are many ways in which you can deposit funds into your Moon Bingo account.
Among the most popular methods of deposit and withdrawal include:
Debit Card
Bank Transfer
Paysafecard
Neteller
Owing to the popularity of mobile casino games players can now also deposit funds directly into their account from their mobile devices. Head on over to our pay by mobile casino page for more details.