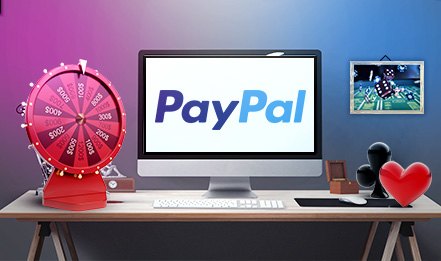 PayPal Bingo
PayPal is one of the fastest, safest, and easiest ways to send and receive payments online. You only need an email address to complete secure financial transactions online or from your mobile device.
play now
Moon Bingo is one of the most trusted PayPal bingo sites in the UK, offering the payment method of choice to all their players!
PayPal has received more than 20 awards for excellence from the internet industry and the business community for creating one of the best digital payment methods online. Being one of the most secure payment systems available, PayPal bingo as become the preferred way to play by online bingo players worldwide.
Why Use Bingo Sites that accept Paypal?
Here at Moon Bingo, we know how important it is to players to have a safe and secure bingo experience. When you play bingo with PayPal you can rest assured that all of your financial transactions are 100% secure. PayPal bingo sites offer the most trustworthy payment and withdrawal method online.
With PayPal, you don't need to share any of your sensitive details with a site from which you make purchases or obtain services. When it comes to funding your bingo account, simply choose the PayPal bingo option and pay the easy way.
Bingo is all about having fun and we want to keep it that way. Therefore it's important to have a safe and smooth way to pay so you can spend more time doing what you love most - playing bingo! We are proud to be one of the top online bingo sites that accept PayPal so you can enjoy your favourite bingo and slots hassle-free!
Play Bingo with PayPal at Moon Bingo!
We are happy to offer our players the option of playing bingo with PayPal. Not only can you enjoy the best bingo games and slots at Moon Bingo, but you can fund your account and withdraw your winnings via PayPal!
Not all bingo sites accept PayPal, but we can expect that most sites will soon add PayPal to their payment options. Since it's the preferred method for financial transactions, it's important for players to have the option to pay for bingo with PayPal.
How to get started playing PayPal bingo
If you haven't set up a PayPal account yet, visit their website and sign up. Once you fill out your information and set your password, you will be able to make deposits and withdrawals at Moon Bingo.
To make a deposit, simply go to the Cashier, select the PayPal option and enter your deposit amount (and bonus code if relevant). Complete the transaction by providing your PayPal username and password and continue on the play your favourite games!
You can also withdraw your winnings when you play bingo with PayPal. Not only is it the most trusted method, PayPal is also the fastest way to complete withdrawal transactions.
To ensure the best time playing online, play PayPal bingo at Moon Bingo today!