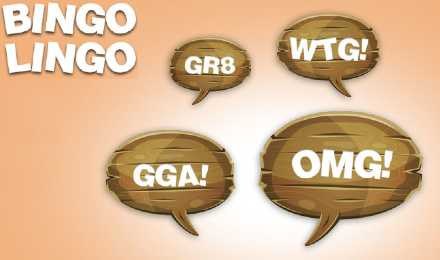 Bingo Lingo
Bingo Lingo can be perceived as the coded or special language resounding in bingo chat rooms of the best online bingo sites throughout the amazing world of online bingo.
play now
With Chat Rooms offering the possibility of interacting with your fellow bingo players and favourite chat hosts, bingo lingo is used to convey a variety of messages. From letting others know that you're away from your keyboard (AFK), wishing them good luck (GL), letting them know you're laughing out loud (LOL), to wishing them good night (GN) amongst others, bingo Lingo brings a refreshing and amusing twist to communication within the bingo community!
At one point or another, everyone in online bingo rooms is bound to encounter and even use bingo lingo. With online bingo rooms being constantly animated by interesting conversations and games with extra prizes and bonuses often in the balance, it is understandable that the frenetic atmosphere might call for conversation and messages to be relayed in a simple, clear and fast manner. Bingo Lingo enables players to do just that!
How do I learn Bingo Lingo?
Whether you're accustomed to the enticing environment prevailing in bingo chat or new to the fascinating world of online bingo, with so many acronyms out there, it might seem hard to get the hang of them and use them appropriately. Fear not dear players, for Moon Bingo is here to help you navigate through this sea of abbreviations and codes. You can see the full list below, and as you'll notice, they consist mostly the first letter of each word in the phrase you want to say. Grab a seat and enjoy your journey!