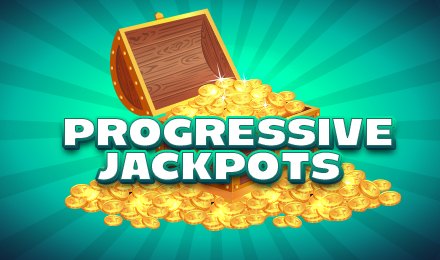 Progressive Jackpots
You won't find more exciting jackpots in bingo than progressive ones. It's where you'll find the big bucks and you can win life changing sums from even the smallest buy-in.
play now
Here at Moon Bingo we have a wide range of thrilling progressive jackpot games which can be accessed by clicking the "Play Now" button above.
Whether you're a lover of 75-ball bingo or some of the newer, exciting variants, we've got you covered. Of course, you may also not be aware of what progressive jackpots even are, but don't fear, you can find all you need to know about progressive jackpot bingo games right here!
What Are Progressive Jackpot Games?
Naturally, the first question you'll want to ask is what exactly are they?
Well, progressive jackpot games are extremely popular with players not just in bingo but across online slots too, where the jackpots can often reach the millions. Unlike regular jackpot games, which are fixed with the winner receiving X amount for completing their card first, progressive jackpots keep building, with a portion of every bingo card bought added to the progressive jackpot until it is won.
Once the progressive jackpot is won it will start all over again, with most having a minimum payout from which it then builds from.
In some cases the progressive jackpot may be linked to a number of different bingo games, which is known as a network jackpot. These are the progressive jackpot bingo games that usually offer the highest payouts to winners.
How To Win A Progressive Jackpot Game
Winning a progressive jackpot game is done in exactly the same way a regular jackpot game, except you will be required to complete your card in a predetermined number of calls.
This ultimately means you are against the clock. For example, a bingo game might have a progressive jackpot that you win if you are the first to complete your bingo card within 20 calls.
This means that to win the progressive jackpot, your card must be complete before the 21st number has been drawn. If this isn't achieved by any player, the progressive jackpot continues to roll over.
If it is the case where the progressive jackpot isn't won, the first player to complete their bingo card will still win a prize, with fixed jackpots also stated at the beginning of the game.
How Much Will I Win On A Progressive Jackpot?
Due to the nature of progressive jackpots and the fact they aren't fixed there is no set amount you will win on a progressive jackpot, it really depends on how long ago it was the jackpot was last paid out.
Some can reach quite staggering figures, particularly those which require a higher buy-in. However, even when the jackpot has just been won, there will still be a relatively large prize pool when it starts from the lowest amount as while buying your bingo card will contribute to the current progressive jackpot, it will also see some added to the next, almost like a float in a shop till.
How much is on offer on the progressive jackpot will always be clearly stated ahead of each game played.
The amount you win will also be dependent on the game itself, with progressive games to suit all budgets. For the high rollers, the prizes are among the largest, but then the cost of a bingo card is also significantly more too.
However, there are also progressive games to suit players with a lower bankroll, but that will also mean a lower fixed jackpot and a lower progressive, although they can still build to be rather large sums of money!
Head to our progressive jackpot games and check out what we have on offer today! We always have some big cash builders and you really are within as much chance as anyone else!