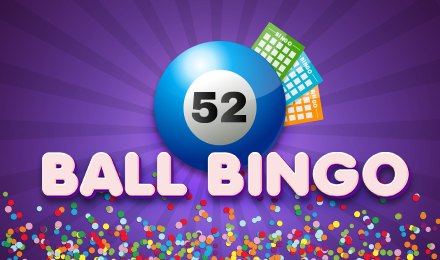 52 Ball Bingo
Welcome to 52-ball bingo. This popular version of bingo is played with cards instead of the usual numbered balls. Players have 5 different playing cards dealt giving loads of chances to win big. The 52-ball bingo aims to match your 5 cards before your bingo roomies. Login at Moon Bingo to play B-I-N-G-O!
play now
How to Play
In 52-ball bingo, the player is dealt 5 cards drawn from a deck. It is different from the traditional bingo games which are played with numbered balls. During your gameplay, your goal is to cover all your 5 cards by achieving a full house before anyone else. In this fast-paced bingo game, you are bound to have a fun time. Head to the lobby and find a variety of 52-ball bingo games.
Ways to Win
To win at 52-ball bingo, be the first to match all 5 cards for a full house prize. There are some 52-ball bingo games with a jackpot. So, what do you say? Choose a game and start playing. When your cards are announced, it will be covered with a chip. Cover them all first to win and enjoy a prize. The best thing is, it could happen in five calls!
Rules of the 52-Ball Bingo Game
52-ball bingo game is played with cards.
Instead of bingo tickets, you are dealt with 5 playing cards.
There are 52 cards in a playing deck.
Once your number is being called out, you need to cover that card with a chip.
Depending on the game, the jackpots and prizes will vary accordingly.
So, if you fancy something different, we highly recommend you try out 52-ball bingo at Moon Bingo. It continues to grow in popularity amongst bingo lovers. Log in and begin your bingo experience with us.