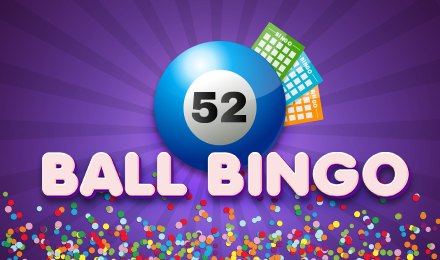 52-Ball Bingo
When it comes to online bingo these days, there are all manner of different variations, with many taking inspiration from the world of online casino too.
play now
52-ball bingo is one of these variants, offering a completely new take, swapping out the traditional bingo balls for a deck of cards.
It's a fun game that offers bingo with a twist. You can find all our fantastic 52-ball bingo games by clicking 'Play Now' above and get started on your bingo adventure...
What is 52-Ball Bingo?
52-ball bingo is a variation of bingo that is perhaps more closely aligned with more traditional bingo games such as 75-ball bingo and 90-ball bingo than you might think.
The aim of the game is still the same, to match the cards drawn with the cards you have been dealt in the first place. It's a fun game that is certainly among the quickest to play, with a jackpot possible with just five cards drawn!
The Rules of 52-Ball Bingo
52-ball bingo is played with a deck of cards rather than bingo balls
Rather than a ticket, you are dealt five playing cards
When a number is called out, a chip is placed on the playing card
How To Play 52-Ball Bingo
Playing 52-ball bingo is simple, and unlike other variants there is only one prize on offer. The game plays by pairing cards rather than matching balls to your bingo card, with players receiving five cards at the beginning of each game.
Like other bingo games, players can take part in a game with multiple cards with usually a maximum of five in place.
To play 52-ball bingo, you simply need to complete the following steps…
Log-in or sign-up to a Moon Bingo account
Select the 52-ball bingo game you wish to play
Buy five playing cards, or multiple hands if you wish.
Wait for the game to start and be in with a chance of winning!
Any winnings will then automatically be paid into your bankroll.
How Winning Differs With 52-Ball Bingo
Where 52-ball bingo largely differs compared to other forms of bingo is when it comes to winning. Unlike games such as Swedish Bingo, where there are multiple ways of winning, there is only one way of winning with this game - to complete a full house.
That is because you are only dealt five cards in the first place, meaning a full game could be over in as little as five numbers being drawn.
The prizes are always generous with 52-ball bingo and the jackpots are clearly displayed in the lobby for each game, alongside the cost of buying a bingo card. If you want to increase your chance of winning, there are options to purchase multiple bingo cards for this game.
The 52-Ball Bingo Card
While you may be used to playing bingo across a 5 by 5 grid, 52-ball bingo is completely different, with players dealt five cards as if they were in an online casino.
Instead of marking off the card with a dabber, once a card has been called the player must place a chip over the card in question. This is done automatically when playing online. The aim is then to cover all your cards with chips in the quickest number of draws to win.
Time to Get Started?
52-ball bingo offers a real variation on the more traditional bingo games, so if this appeals to you and you're looking to get started, then why not start playing today?
We have a number of 52-ball games in our lobby to suit all bankrolls, so simply click the 'Play Now' button at the top of this page, sign-in and start playing!